Colombian author Gabriel García Márquez, affectionately known a "Gabo," was widely regarded as the most beloved Latin American writer of all time. Generally thought to be one of the founders of the literary genre of
magical realism
, García Márquez captured the imagination of his readers through complex stories of families, lovers, and Latin American politics. After a career as a journalist, Gabriel García Márquez left Colombia in the 1950s and moved to Mexico, where he died this month at the age of 87.
"I discovered to my joy, that it is life, not death, that has no limits."
-- From Love in the Time of Cholera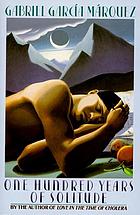 Gabo is most famous for his novel
One Hundred Years of Solitude
, the epic story of the Buendía family in the fictional town of Macondo. The novel was awarded the
Nobel Prize for Literature in 1982
.