A recent op-ed in the New York Times (
Has Privacy Become a Luxury Good?
by Julia Angwin) posits that we have lost all privacy in the age of Google, the Internet, and online living. We use a free email program like Gmail or Yahoo! and we surf Facebook and Pinterest without paying for a subscription. She says, "we get all those services for free — and we pay with our personal data."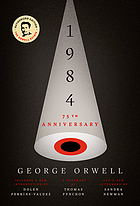 PR6029.R8 N49 1984b
Check out these tools to protect your privacy online: